Before and After Photos
The rebuild took twice as long as I expected--about 6.5 years. I went over budget but not by much, all things considered. When I started the project I did not anticipate building a new mast/rig with all new sails. An unexpected turn of events presented me with the opportunity to acquire a new taller custom designed mast for a ridiculously small price due to the generosity of a new friend.
When I started the project I had very little to no woodworking skills. I am not being modest. Four years before I started the rebuild, while a student at the US Army War College, I joined a woodworking fellowship. It was my first experience working with wood. The group met one night a week. For my project I chose to build a kitchen work station. It had a number of the features I knew I needed to learn how to make--a laminated top, tapered legs, dovetail drawer, mortise and tenon joinery, etc. All the wood was rough dimensioned so I also had to learn how to mill it. These were the basic skills I would need to create the boat I had envisioned in my head, and captured in rough sketches, for decades. The woodworking fellowship was a great experience. This wonderful group of men patiently taught me basic woodworking to include shop safety. Until that experience, I had essentially built nothing more than a prefabricated book shelf purchased at a big box store.
My fiberglass skills were even less impressive than my woodworking skills. But, I was determined to have the boat I could not afford to have someone else build for me. I was fortunate to develop a long and I hope lasting friendship with two men. They each became a mentor, advisor, coach, psychiatrist, cheerleader, and confidant. One man is well known in the boat restoration circles--Tim Lackey. He is an incredible craftsman. Many people refer to his website as "boat porn" or "the holy grail of boat restoration". His detailed descriptions and photos of the boats he rebuilds is a priceless gift to thousands of people that aspire to repair, restore, or modify their boats. But, for reasons unexplained, Tim took a direct interest in my project and never failed to answer my hundreds of questions. He never tried to convince me to alter my vision but instead helped me determine how best to achieve what he clearly understood I wanted. Tim's patient advice to me on all things fiberglass, epoxy, paint, electrical, metal, glue, sealants, abrasives, tools, sanding, grinding, was a huge gift. But, his most important advice was more subtle and yet sublime at the same time . . . he helped me get my arms around the psychology of taking on a long term project. Most projects of this scope fail once the realization set in as to just how much effort is required to complete it. Tim's encouragement was extremely valuable. And, I might add, he talked me off the ledge more than once.
The other individual if key importance was Kaj Jakobsen. Kaj is just finishing up building his own boat. A stunningly beautiful FC 34 that is to die for. Kaj has not only beautifully restored a number of boats he is also certified Swedish Cabinetmaker. He is the real deal. Early on, I contacted him about a few woodworking details I had seen on his website and his response was both warm and incredibly generous. Kaj had been a machine gunner in a Canadian infantry unit. So, right from the start we had some common experiences. We were also both big fans of Lin and Larry Pardey and their keep it simple mantra. Kaj spent a lot of time answering my questions on how to make the wooden interior I desired. He sent long emails with pictures and step by step instructions on how to mill the African mahogany I had chosen for the V-groove staving used throughout the boat. He gave me pointers on complicated joinery challenges. He taught me a simple way to make the V-groove overhead headliner I wanted. He gave me tips on working with bronze and also helped me select some important hand tools I needed. Like Tim, he encouraged me and championed my efforts. Both these men have their virtual fingerprints all over the Far Reach.
I have also been supported by too many other people to name--friends and neighbors mostly but sometimes fellow sailors that we have met along the way. These many generous people have often come to our assistance and either lent a hand or provided other support that proved invaluable. I am often contacted by sailors asking questions regarding the details of the Far Reach. I do my best to share what I have learned and as they say--"pay it forward."
I also have benefited from a very supportive family. My kids and wife have humored me, helped me, encouraged me, and most importantly celebrated with me all along the way.
In December 2015, six months after launching the Far Reach, I sailed her with my sister, via the offshore route, 1643 nautical miles from Cape Lookout to the BVI. I then spent six months sailing in the West Indies--a place I had visited a thousand times in my mind. My family joined me there where we had a fabulous time. In late May 2016 I singled handed the Far Reach 1343 nautical miles back to NC from Sint Maarten--one of the great experiences of my life. We continue to plan for new sailing adventures. But, more on that another time.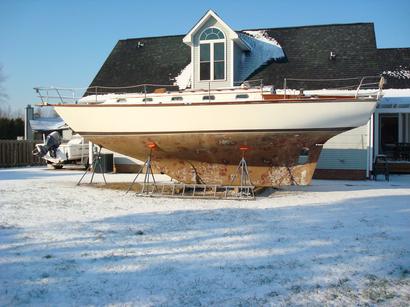 The Far Reach (Hull 61) was a stock CD 36.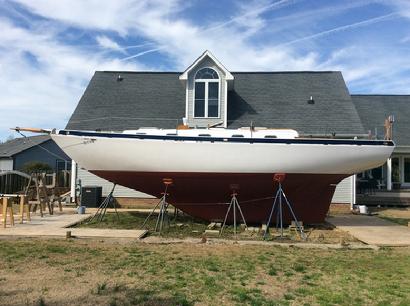 The Far Reach after the rebuild. She has been completly rebuilt and customized.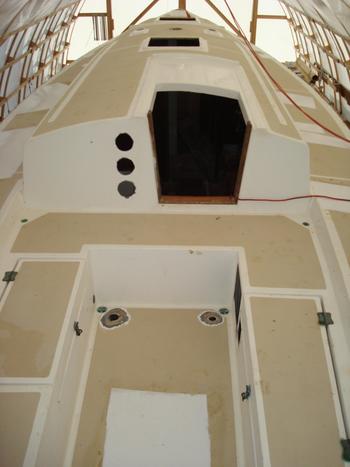 The Far Reach originally came with wheel steering. I had already removed it when this photo was taken.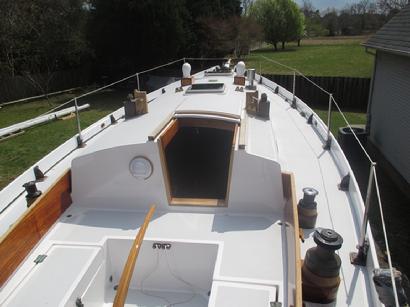 I converted her to a tiller and filled thousands of holes. The only instrument we carry in the cockpit is a compass.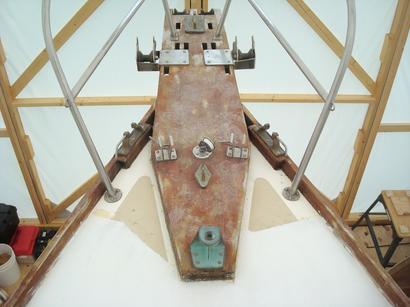 She had the standard plank bowsprit, SS bow rollers, and a fitting for self tacking stays'l.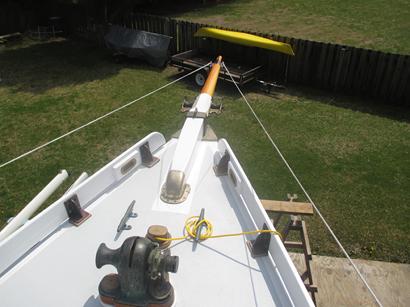 As part of the new taller rig I designed and built a longer traditional bowspirt. I eliminated the self tacking jib and moved the tack of the stay'l forward to the gammon iron on the stem. I added a bronze manual windlass.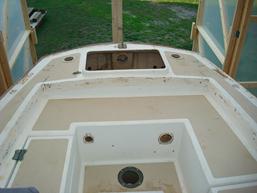 Minus the wheel steering and coaming this was the original cockpit layout.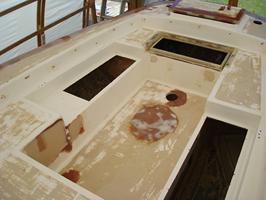 This photo is during the glassing over of the gunwhale. Note the propane locker under construction at the aft end of the cockpit.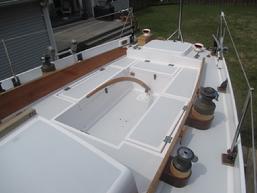 We reconfigured to a tiller, installed the propanel locker, and glassed in the old engine controls.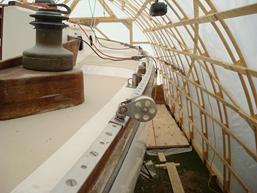 The toe rail in her original configuration.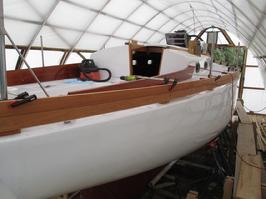 We removed the toe rail, glassed over the deck edge with three layers of 1708 biaxial/epoxy and installed 6 3/4" tall bulwarks. We milled them from African mahogany with a teak caprail.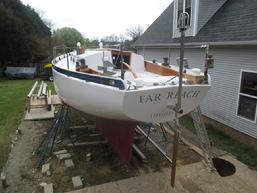 We painted the bulwarks blue on the outboard side and white on the inboard side. What a difference they make at sea.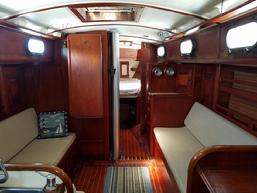 This is a photo of a sistership. We had a pedestal mounted saloon table vice a folding one. Other than that, she looks the same as the FR before the rebuild.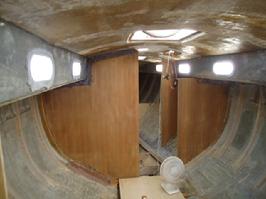 We tore out everything except the bulkheads.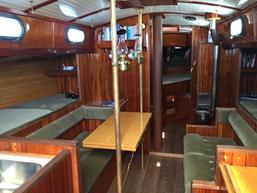 The new interior. We added two pilot berths, a folding table, and a double berth fwd. We designed and installed a sitz tub in the head. The sole is bare solid black walnut.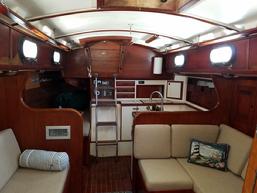 The original (sistership) layout looking aft.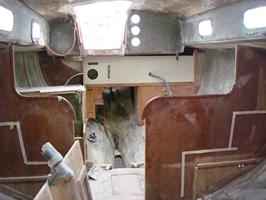 The destruction was indescribable.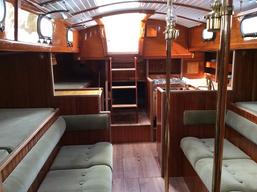 The new interior looking aft. There are seven coats of high gloss varnish on mahogany and ash. This photo is before we built the folding table. Note the V-groove wood overhead.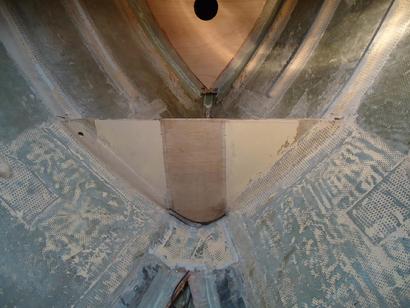 I relocated the forward bulkhead. I had not yet cut out the opening after glassing it in place.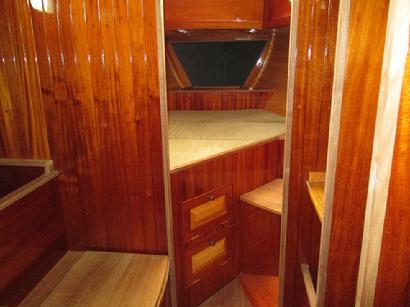 We converted the original V to a double berth and opened up the chain/rope locker for better ventilation.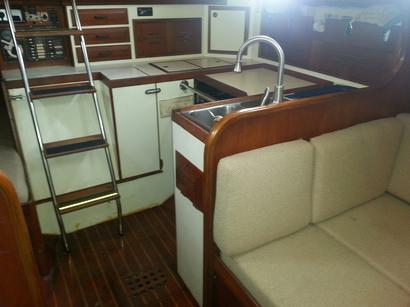 The original (sistership) galley. Note the icebox is between the engine and the stove.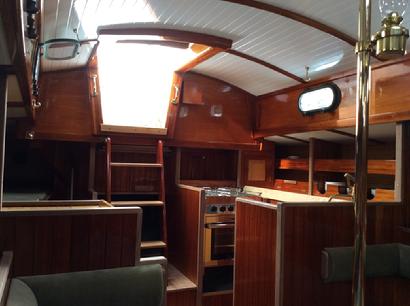 The new galley has a fixed rear facing stove oven. The icebox is moved to the starboard side.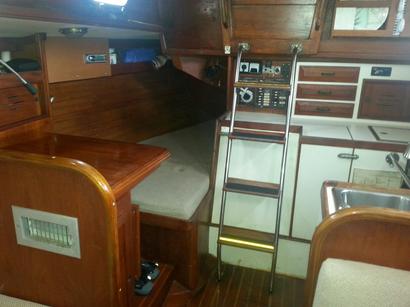 The original (sistership) Q berth and nav station arrangment.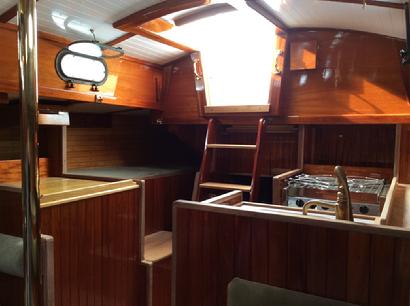 We raised the Q berth and made is smaller for use at sea. We incorporated a watch seat. The chart table has the icebox underneath.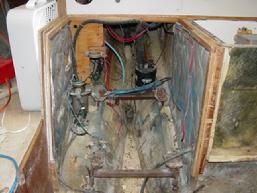 The original engine was a 50 HP Perkins 4-108.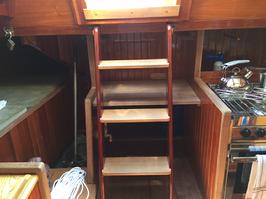 We decided not to reinstall the engine and instead kept the boat as simple as posible while maximizing storage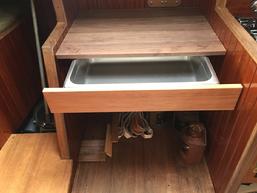 This space continues to evolve. We added a tool drawer build around a SS steamer tray. It has worked great.